Metingear is an open source desktop application for creating and curating genome scale metabolic networks with chemical structure.
Creating a high-quality genome-scale metabolite reconstruction requires meticulous manual annotation and can take substantial time to complete. Metingear simplifies the process of manual annotation providing a higher-quality and correctly annotated reconstruction in less time.
Download the latest version
Acknowledgement
Metingear was created by members of the Cheminformatics and Metabolism group at the EMBL, European Bioinformatics Institute (EMBL-EBI). The project is funded by EMBL, Unilever and the BBSRC
Screenshots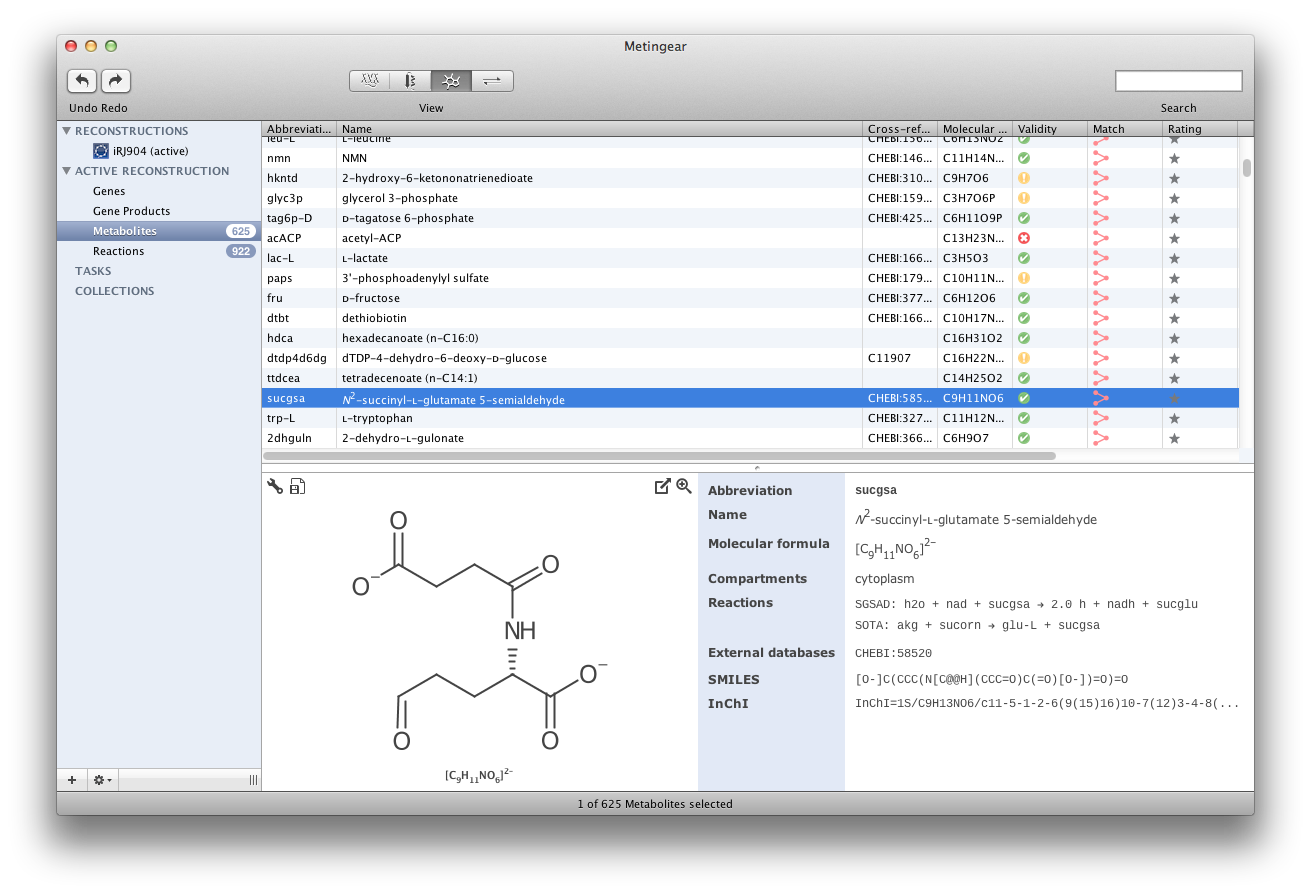 Example Reconstructions
For quick start, the Metingear binary format is recomended.
Key Features
Importing existing models
Import reconstructions from:
Include nucleotide and protein sequence information from:
Metabolite cross-referencing
Metingear provides easily resolution of cross-references
import and export Resource Description Framework (RDF) annotations from SBML
extract references from free text, such as notes and comments
search multiple resources using the name of a metabolite
resource inference on manually entered identifiers
Chemical structure
Data resources
Simplified interaction with:
To improve speed, users can load resources into a searchable local index. The index dramatically improves speed and allows customised searching, such as chemical substructure. All services are link to identifiers so once an identifier is added Metingear can identify if any services are available and which services can be used.
Manuals
Screen Casts
Annotating an SBML model
Before you start you will want to check out the written tutorial with details of what you need to do before you start. Alternatively you can watch the before you begin video.


Other Projects



* requires column selection
** currently web-service only